If you manage social media campaigns, then you know how crucial it is to target the right audience — go too narrow and you'll fatigue potential customers and leave revenue on the table. Go too wide and you'll spend money on people who are unqualified or who have no interest in your product.
Of course, dialing in the perfect target audience is hard. Or at least it was hard. Now it's easy.
Audience Kitchen unlocks the universe of audience targeting options in Facebook and Instagram for brands, agencies and anyone who buys ads on Facebook or Instagram.
Discover new and niche audiences, stay organized with lists, and export directly to your campaigns in Facebook Ad Manager to get the best ROI for your ad spend.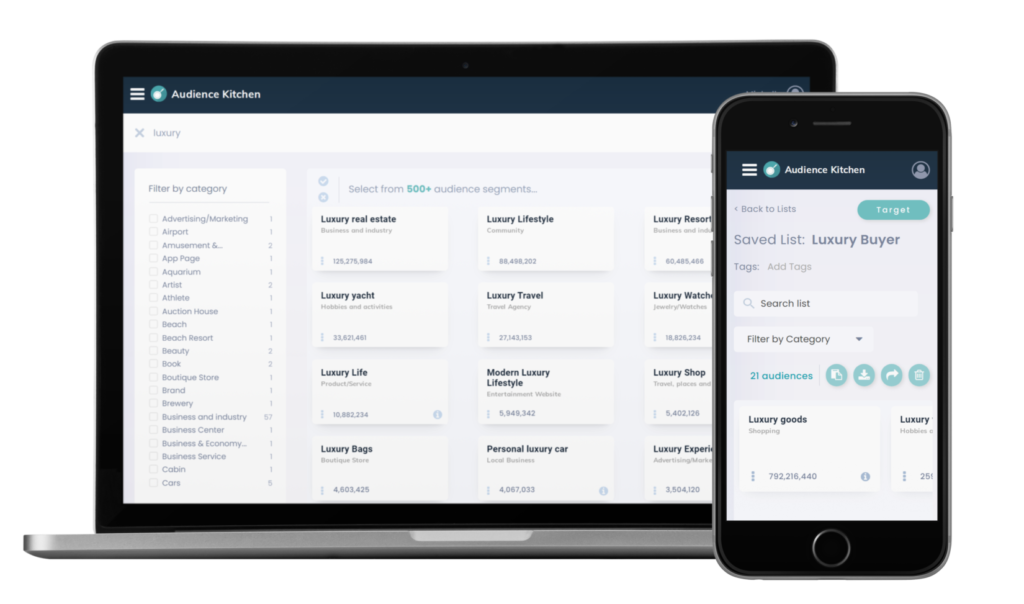 Here's a quick rundown of how you can optimize your campaigns with Audience Kitchen:
Find audiences your competition doesn't know about
With such high competition for ad inventory in Facebook and Instagram, it's becoming increasingly important to find unique audiences to target.
Yet if you're using the Facebook Ad Manager to browse your options, you're only seeing less than 1% of the 95,000+ audience segments available for targeting. And if you're using their search function, you're only seeing a maximum of 25 results per search — the same suggestions that your competition is also seeing.
Now, there's a better way. With Audience Kitchen, you'll discover more than 95,000 audience segments – interests, demographics, and behaviors – across over 1,000 categories.
Every audience segment is 100% verified with Facebook to be officially supported for targeting. And with our AI recommendations, you'll see a wide variety of relevant targeting options.
For example, a search for "pet supplies" reveals 15x more suggestions in Audience Kitchen than you'll find in Facebook's interface. Everything from Dog Lovers, to Milk-Bone.
In Facebook, a search for "pet supplies" reveals only 6 suggestions:
In Audience Kitchen, the same search reveals 94 results – 15x more: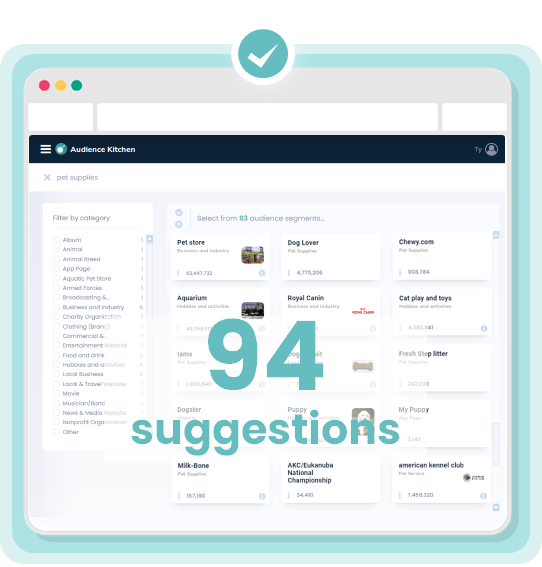 Combine audience segments to focus on your highest value customers
Finding niche audiences also enables you to optimize your audience size by combining several audience segments together, one of the quickest and easiest ways to boost your Return on Ad Spend (ROAS).
Let's pretend we're a luxury furniture company specializing in bedroom furniture. Our existing audience of lookalikes is too large and suffering from lackluster ROAS.
With Audience Kitchen, we can easily find demographics, behaviors and interests that can be layered together to create an audience that best reflects our target customer and instantly improves ROAS.
Ramp up new campaign performance more quickly
Audience Kitchen is essential if you want to reach your most valuable audience right away.
Facebook says their optimization algorithm requires at least 50 conversions per week – per ad set – to work properly. That's a lot of data! And it takes time to achieve.
Instead of waiting for Facebook's algorithm to recognize that your customers are interested in natural and organic foods, why not just dial in the information you already know about your target customer?
Using Audience Kitchen, you can achieve better performance right out of the gate by narrowing your targeting with relevant audience segments.
Revitalize existing campaigns by expanding to untapped audiences
As marketers, it seems like we're always under pressure to grow year-over-year revenue.
But it's hard to keep growing when you have a finite audience of people who are fatigued from seeing your ads at a high frequency.
With Audience Kitchen, you can find opportunities to expand your reach to new audience segments – and ultimately, drive incremental revenue..
Get started with Audience Kitchen
If you've got existing campaigns or are ready to launch a new one, you can start building your perfect audience today. Sign up for free to get started at AudienceKitchen.com.
If you want to measure the incremental impact of your marketing, check out GeoMatcher, our free incrementality testing tool.
Learn how to use Audience Kitchen in 3 easy steps